Custom Fit Golf
NOW AT 3 PALM BEACH COUNTY LOCATIONS
We are proud to announce our expansion from our home shop at John Prince Learning Center to
We offer:
PGA Professional Instruction
State-Of-The-Art Club Repair & SAME-DAY Re-Gripping
Major Brand Equipment & the Newest Apparel
& more at all 3 facilities for all your golfing needs!
Club Fitting is available at John Prince Learning Center, and will soon be available at all 3 facilities.
We are an authorized dealer for all major Golf brands
We're on eBay!
VISIT OUR eBay STORE for our selection of New & Used Clubs, and other equipment needs!
eBay Store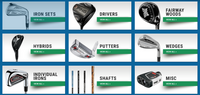 Remote Instruction & TRAINING AIDS